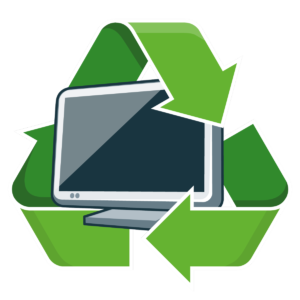 The current recycling reality for us and our planet…
We're all gathering more and more electronic waste these days. As technology moves forward and we try to keep up, many of us find ourselves with a growing pile of technology we no longer use.
At Computer Support Marin I will help you solve this situation and find the right, environmentally correct solution for your E-Waste problems. Whether it's an old tv, audio system, printer, fax machine, mobile phone, or computer, the dumpster is definitely not the right place for it.
Renew and Reuse
In the case of items like computers, laptops, notebooks, iPads, and iPhones, that can be securely wiped clean of any personal data and then reused, I will donate my time in order to do the secure clean up so that I can get these devices into the hands of the less fortunate people that don't care if they have the latest and greatest model. This could be a local family in need of a computer for their kids at home without one, or an elderly client on a fixed income that badly needs an upgrade but just can't afford it.
You just can not imagine the faces and complete non-believing looks I get from people when I say out of the blue to them "Today is your lucky day, you're getting a new (fill in the blank)" give them a new device, make sure they know how to use it, and then get on my way. This is truly one of the most rewarding parts of my work and without fail, it gives me a warm fuzzy feeling every single time and you can be a part of this too, doing your part to do the right thing!
Recycle
For items that can't be reused by someone, I will get them to the proper Recycling facility for you. The flat fee for E-Waste pick up is $60.00. Pickups are only available on Saturdays and you can schedule a pick up here. The fee will be waived if I'm already On-Site helping you with your technology.